History of Carthay Circle
In 1922, Carthay Circle was developed by J. Harvey McCarthy. Centrally located, the neighborhood is comprised of 136 acres, but it is not circular, contrary to its name. The specific boundaries of Carthay Circle are Wilshire Boulevard to the north, South Fairfax Ave. to the East, Olympic Ave. to the south, and Schumacher Drive to the West. Carthay Circle's location most closely borders Beverly Hills with the lovely La Cienega Park nearby. This area was designed with all the utilities underground, which makes it especially attractive to homebuyers. No two homes are alike due to the rule that all homes had to be designed individually by an architect. Designs vary immensely; one can find Spanish, English, Colonial, Mediterranean, and Cape Cod style homes. Notable designers such as Paul Williams and Robert Byrd contributed to the designs of the area and many celebrity actors resided in Carthay Circle. Certain streets in Carthay Circle feature both single-family homes and one-story duplexes that look like single-family homes. These combined streets can be found on Commodore Sloat, Hayes Drive, and Schumacher Drive. Original two-story homes were built on Warner Drive and Barrows Drive, but the majority of homes are one-story. These homes range in size from 1700 to 2300 square feet, but most measure in at 2000 square feet, on large lots.
For more information on the historic Carthay Theater, click here.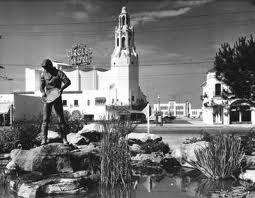 The following is a link to a detailed research paper on the history of our special neighborhood providing fascinating information: The History of Carthay Circle